Home Address: City: State: Zip: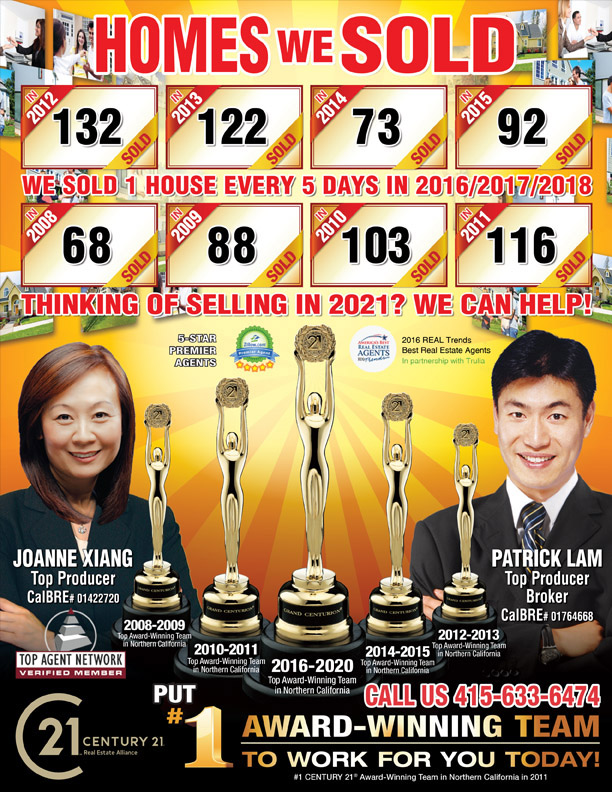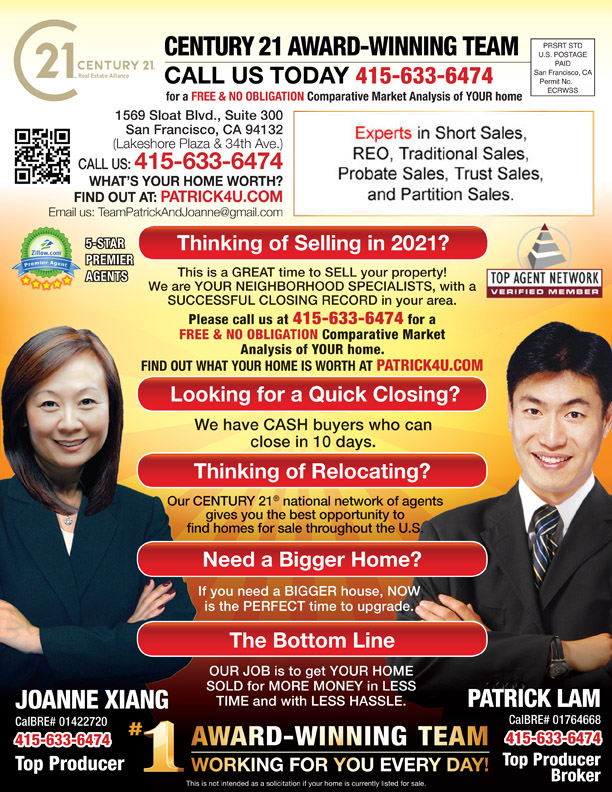 Client Testimonials
"Experienced, knowledgeable, courteous, and consummate professional."
Nabil G. (Seller)


"Patrick Lam is the best of the best broker. I will definitely use him again in the future.
Got the sales price I wanted. Patrick did an excellent job.
Patrick is very professional"
Janet G. (Seller)


"Patrick is the best. My experience through out the process was painless. Patrick has experience in dealing with Real Estate (Trust) Sales which was absolutely important because I had no clue what to do. He made recommendations that was a good fit for my needs in making the home look like a five star hotel. He definitely lived up to his name Happy for you Pat!"

Karen De Shay (Seller)


"Patrick went way above and beyond. I was a very difficult seller and Patrick took everything in stride. He worked hard to get my home sold and while my home was in Escrow he went out of his way to fix things, signing for my family's rental property and offering a place to stay in between our escrow closing and the move in date for the rental property. Not just a great realtor but a great person in general!"
Marvin Allen Costa (Seller)


"Patrick Lam is absolutely great. He is very patience and very professional. He went above and beyond to ensure that the property was decent and in order for selling. I would recommend him to anyone that is looking to sell no matter the condition of your house.He gave honest opinions. Thanks Pat"
Kin Hunter (Seller)


"I have retained Patrick Lam for three different transactions in the past several years, and every time I am very pleased with his services. He goes out of his way to help me in all the details and is a very trustworthy person. I will highly recommend his service!"
Michael H, Turst Attorney (Seller)


"Patrick Lam handled everything ,called me to get my ok on price after evaluation,then called to ok on offer,the next call go to escrow and always kept me in formed ,everything went so fast. I would highly recommend Patrick"
Warren L. (Seller)


"I have worked with Patrick for about five years. We've bought and sold about 10 houses together. He is the best. Super knowledgeable, responsible and on top of all aspects of sale. He makes everything easy -- from organizing the staging to photos and inspections. His Open Houses attract more people than any agent I know. I could not recommend him highly enough."
Richard Kelly (Seller)


"Our experience with Patrick Lam was top notch. He was very knowledgeable of the area, had a comprehensive marketing plan, and executed on all points. We followed his advice on prepping the property and it worked out just as he had planned. The property received 15 offers and was sold and closed in less than three weeks of the first open house. We will be forever grateful for the hard work and experience of Patrick!"
Deanna Bushong (Seller)


"Patrick has an easy going persona, and his straight forward and honest plan for marketing my home convinced me that he is a person I can be confident of as an agent.

Patrick attended to all my requests in a timely manner, such as, finding an odd size shower door and non-standard filters for the range exhaust fan, and the perfect color red for the front door. I am glad to have chosen Patrick because I know if anything needs to be done, Patrick will do it. That is why he is the Number One producer year after year. And for my money, I wouldn't hesitate in recommending Patrick Lam if one is in the market to buy or to sell a property."
W.Ong (Seller)


"We met with broker and were impressed with his sales strategy. We also liked his contacts for preparing the property for sale. He saved us a great deal of time and effort. Being that this was an estate sale, it was nice that he could help us through this emotional time. We were very pleased the way everything turned out."
Pat Lenzini

(Seller)


"Patrick Lam was exceptionally professional, very knowledgable, and communicated very consistently throughout the sale of my home. As this was the first time I have sold a house, I was a bit apprehensive about the process. Patrick however, made it very easy and painless process. He put forth a solid plan, executed it exceptionally well, and conducted the sale quickly, achieving results I am very happy with.

I will not hesitate to recommend Patrick to others, as well as use his services again next time!"
Dacien Sims, Daly City

(Seller)

"Patrick and his team were all top notch. He was very responsive and a great communicator. He had a low cost contractor that was able to perform some quick painting, and he also went the extra mile by throwing down some wood chips to give the back yard a little extra pop.

Staging and photos were done well and we obtained a fair price for our home. Overall it was a great experience and I highly recommend Patrick and his team for people currently going through the agent selection process."
Jeff French (Seller)


"Efficient, responsible, professional, support beyond expectation."
L. Lee (Buyer)


Your Satisfaction is Our Success!


Contact Info
Century 21 Realty Alliance (415) 710-3704 Patrick Lam
#1 Award-Winning Real Estate Team - Working for you every day!
Century 21 Realty Alliance (415) 710-3704
1569 Sloat Blvd #300 (Lakeshore Plaza & 34th Ave), San Francisco, CA 94132
DRE#: 01764668